Introduction
This article is deals with one of the most important Legal Maxims which is very important. In this article there is discussion of the Legal Maxims ACTIONABLE PER SE with easy explanation and with illustration and case laws.
ACTIONABLE PER SE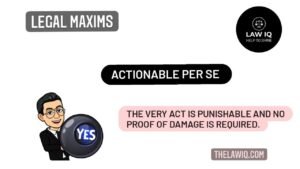 Meaning→→→
The very act or action
↓
punishable,
↓
no proof of damage
↓
is required.
Origin→→→ Australian Law
Explanation
Actions→ that do not require→ the allegations/proof/additional facts→  to constitute a cause of action.
Tort is actionable because it happened. In the some cases, The plaintiff does not have to prove that plaintiff suffered any damages for the cause of the action. In Tort for claims there is normally require proof of damages. But if you haven't suffered any loss or damages, then there is no kind claims there.
In case of the tort there is actionable per se is there. So in tort there is no requirement of the proof of damages if there is damages done by the defendant, So tort is actionable.
Some cases plaintiff is unable to show that he has suffered for any loss and any damages then this are recover easily cause of this maxim.
Example→→Trespass and Defamation are best example of the ACTIONABLE PER SE.
Illustrations
 assault/battery/false imprisonment/libel/trespass on land/the mere wrongful act→ actionable
↓
there is not necessary the plaintiff has suffered any damage or loss.
Raees→ Defamed→ Hasnain. In this case Hasnain does not proves damages and get claims cause of this maxims. Words are actionable per means, Here raees insulting and injurious to Hasnain's reputation by defamation so here Actionable Per se maxim is applied.
Case Laws
Ashby Vs. White,
the defendant→ a returning officer→ he wrongfully refused to register a properly tendered vote of the plaintiff→ who was a legally qualified voter.
↓
Plaintiff not suffered any losses and damages cause of this.
↓
but defendant was liable because he deprived the plaintiff of his legal right of registering his vote.
↓
Then court referred this maxims, Actionable per se.
Conclusion
Short and Sweet meaning of the ACTIONABLE PER SE means for punishment of the action there is no requirement of the proof of damages.
Just example like, Defamation, Trespass, Assault or more many acts.