False Evidence Under IPC section 191 deals with it.
If anybody breaks the law and is found guilty. How judiciary system prove their man guilty? Or those men commit crimes! All of those questions answer is On the basis of evidence the people find him guilty or not!
What is Evidence?
Evidence is any type of proof that is legally presented during a trial (approved by a judge) aimed at convincing the judge and/or jury of the alleged material facts of the case and matter. Evidence is any statement required or permitted by the court on oath and any document submitted by the court's instruction.
Section 3 of the Indian evidence, the act talks about types of the evidence.
According to section 3 of the Indian evidence act, there is two types of the Evidence.
Oral

Documentary Evidence
False Evidence 
A statement or documentary evidence presented in court when known to be false or is believed not to be true then this evidence consider as false evidence.
When the evidence is presented into the court for proving a crime then this evidence considers as "Criminal evidence". Criminal evidence is any physical evidence or oral evidence presented in tot for the purpose of proving a crime.
Most crimes are proven on the evidence so they give false evidence for escape punishment.
So, Criminal who commits crimes sometimes present false evidence for escaping punishment. According to the section 191 of Indian Penal Code present the false evidence is Crime.
Hence, If anybody gives false Evidence is a crime.
Giving some definition of false evidence and punishment of giving false evidence in Chapter 11 of Indian Penal Code.
False Evidence Provision in Indian Penal Code
According to the section 191 of IPC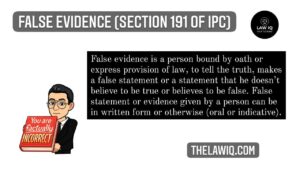 This Section 191 is also known as Perjury under English Perjury Act 1911.
In this section implied that ,
A statement is made verbally or otherwise
⇓
the person is find guilty of giving the false evidence
⇓
by stating that he or she believes a thing which he does not believe as well as
⇓
by stating that he or she knows a thing that he does not know.
Illustration :- # False Evidence Under IPC
Ramesh , being bound by an oath to state the truth, states that he believes a certain signature to be the handwriting of Yogesh , when he does not believe it to be the handwriting of Yogesh, Here Ramesh mention that which he or she knows to be false, and therefore gives false evidence.
Essential Element of the False Evidence according to the this section.
Bound by oath, or
↓
By an express provision of law, or
↓
A declaration which a person is bound by law to make on any subject, and
↓
Which statement or declaration is false and which he either knows or believes to be false or does not believe to be true.
If all elements are available the evidence must be false.
Punishment
Giving false evidence into the court then liable for

imprisonment up to 7 years or fine and both.

Giving a false evidence

outside of the court

then laible for

imprisonment 3 years or fine and both. 
Others Information
Giving false evidence is a non-cognizable offence
This means police cannot arrest a person who gives false evidence without an arrest warrant.
Giving false evidence is a type of bailable offence 
Means, person can get bail from the court.  He can claim bail as a matter of right.
Givng Galse Evidence is non-compoundable.
Means the person who has given false evidence against a person cannot compromise with him and the case can't be closed and
Section 194 to 195A of Indian Penal Code deals with the aggravated form of offences. Aggravate form means serious form.
For example,
Under Section 302 ↔of Indian Penal Code someone is charged for murder ↔the person is giving false evidence ↔due to which accused ↔convicted to ↔ death sentence.
so this is a form of aggravated form of offence. There are different forms of punishment under Section 194 as:
When someone ↔convicted.
When someone ↔convicted and executed.
Read This Also